If you need something in your life, there's probably an app for that. Or a couple of them. We selected 21 best lifestyle apps, so you don't have to.
Life with technology gets a lot easier, at least in theory. If you need something out of your life, there is probably already an app that can help you with that. But new apps appear on Google Play Store & Apple's App Stores everyday, so how do you know which apps are worth your time?
We're sharing some of our top lifestyle apps that are able to ease out your life (or at least helped to ease out ours), no matter if it's in terms of productivity, stress, relaxation, or entertainment.
Aloe Bud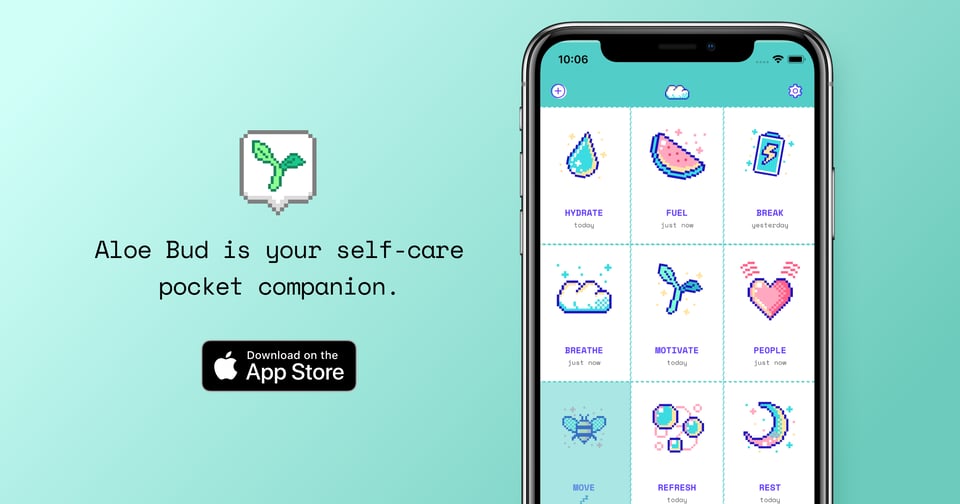 Image source: Aloe Bud
Aloe Bud is an interesting take on self-care apps. In a non-intrusive and non-shaming way it inspires you to take care of yourself, and to do so in various ways and methods (hydration, taking breaks, breathing, moving, reaching out to friends). Many self-care apps focus only on one of those, and Aloe Bud allows you to prioritize what you think is the most important for the present moment.
Aloe Bud doesn't make self-care a weird competition one may have with themselves, where non-completing some of the tasks may start feeling like failures and demotivate you. Quite the opposite. Aloe Bud team describes their notifications as "unobtrusive", and they are indeed phrased in a caring way that actually makes you more motivated.
Language and wording are very visibly important and carefully crafted, so it would not be triggering for people who are struggling. The most vivid example of that would be the reminder to eat - in the app this is actually referenced as "fuel".
This app may not be for everyone, but there is certainly a niche that will appreciate it - people working long hours, people working online who need these small pushes to take care of oneself.
Available on iOS.
Vivid Money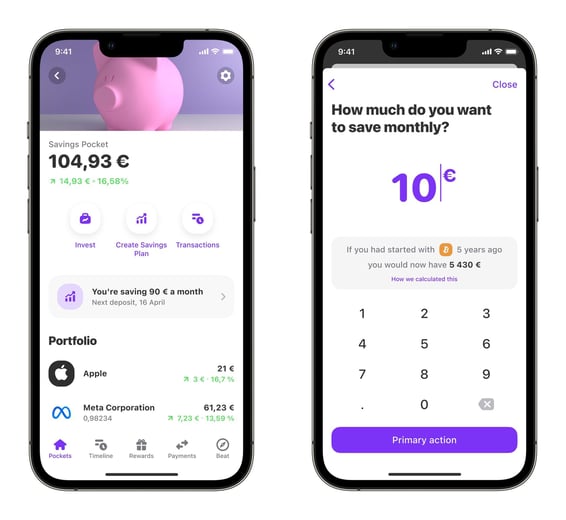 Image source: Vivid Money
Vivid Money's all-in-one intuitive app aims to revolutionize financial services. With Vivid, you can manage your finances with friends and family, invest in shares and EFTs, get cashback on everyday expenses, and access digital banking services. By integrating various features, the app simplifies your daily finances and investments.
With Vivid Money, you can set up multiple free accounts for different purposes such as savings, multiple currencies, investments, and more. The app supports your investing journey and enables you to purchase shares directly through your Vivid Account, your card, Apple Pay, or Google Pay. Handelsblatt, Germany's leading financial journal, rated Vivid Money with the highest score, and the app is used by +500 000 users worldwide.
Available on iOS and Android.
The Parks Channel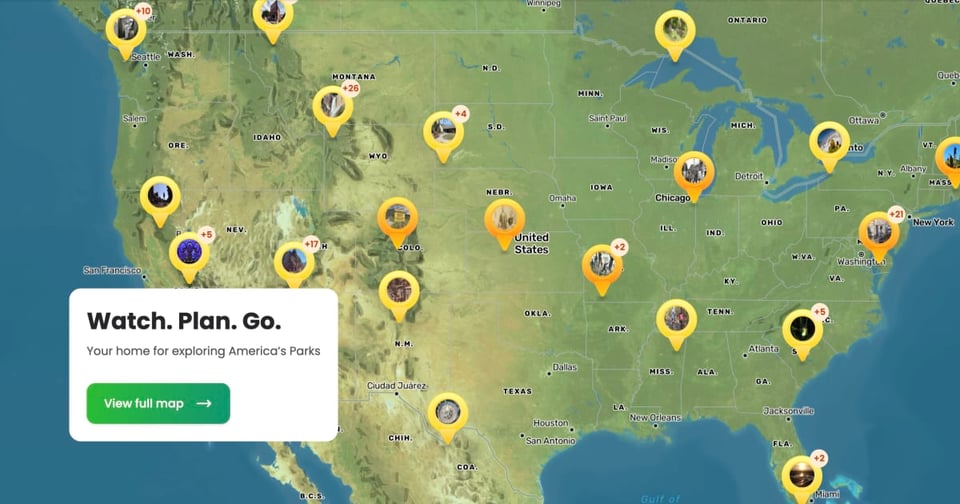 Image source: The Parks Channel
The Parks Channel is a web app with a mission to build a community around the US National Parks.
If you'd like to explore America's treasures from your home by watching top-quality, informative videos - the Parks Channel is the place for you.
With the app, you can explore your next destination with an interactive map of the parks, gain insights from experienced adventurers, and generate your packing checklist based on activities of your choice. And, if you enjoy creating content, you can post your own videos and encourage others to learn about America's natural wonders.
Forest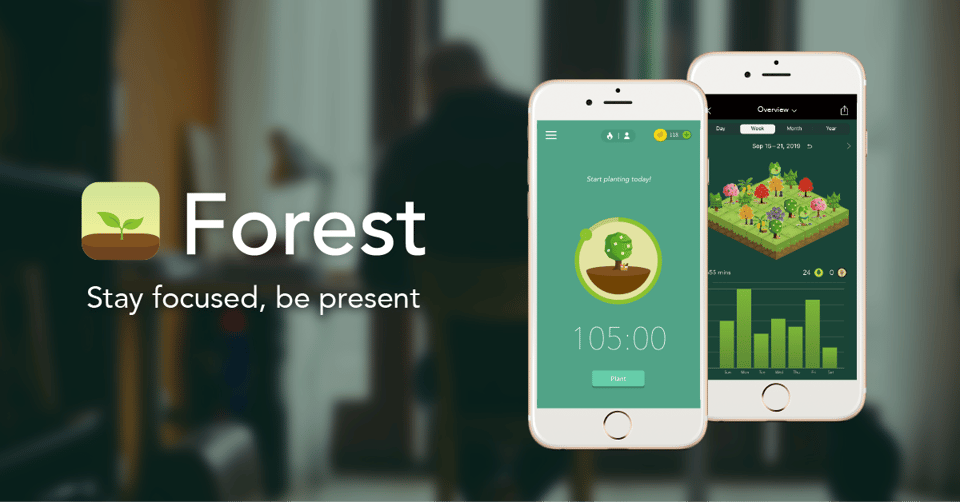 Image source: Forest
Forest is a productivity app that helps you unglue from your phone. The difference from other productivity & pomodoro technique apps? By spending time away from your phone, you can grow virtual trees and earn coins that can be saved up and used to help plant actual and very real trees in five countries in Africa.
To plant your tree you need to set the timer for something between 10 to 120 minutes. In that time your tree will grow - but only if you are able to keep the Forest app open. The tree will die if you exit the app or try to use some other feature of your phone, be it taking a call, reading a message, checking that very important thing you felt the sudden urge to check etc. If you do exit the app by accident you have about 1 minute to go back in (you will receive a notification from Forest that your tree is dying).
Available on iOS and Android.
Faye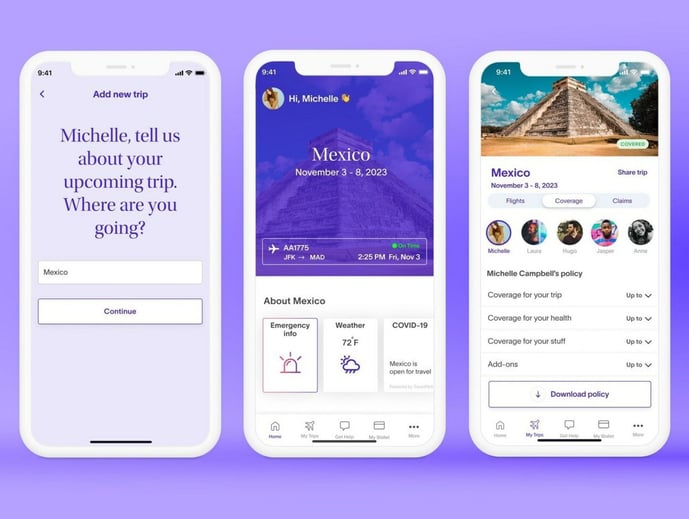 Image source: Faye
Faye is an app providing comprehensive travel insurance including health, trip-related concerns, personal belongings, and even pets. The customized plan helps you avoid unnecessary expenses by ensuring you neither overpay nor end up with inadequate coverage. The plan provides 24/7 support, emergency medical protection, compensation for trip delays, baggage care, and more.
What sets Faye apart from other insurance providers is its intuitive app, and no extensive paperwork making the experience as simple as possible. Beyond insurance, the Faye app provides continuous human support, real-time alerts, and proactive solutions for any issues that may arise, allowing you to fully enjoy your travel experience.
Available on iOS and Android.
Clue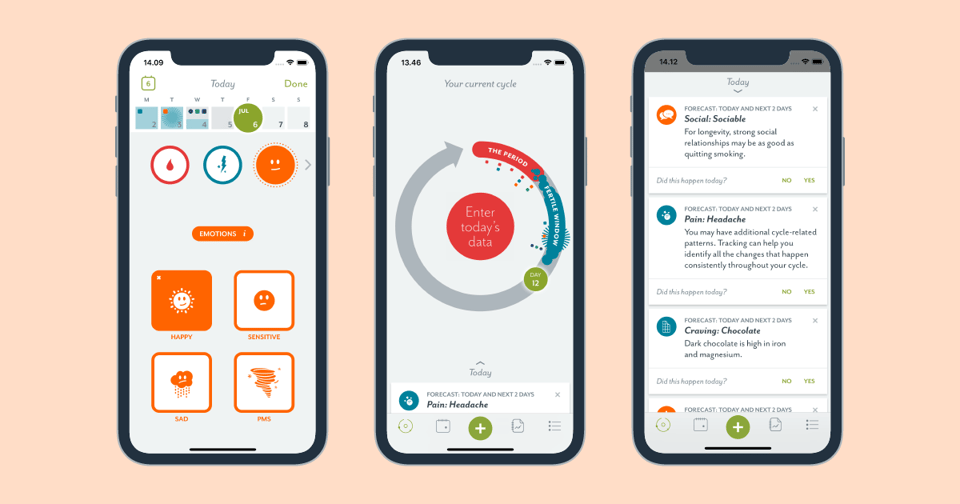 Image source: Clue
Clue was a small Berlin-based startup, but grew to be one of the most powerful, helpful, and informative tools to accompany every woman's menstrual cycle. Their main claim and goal is to make you understand how your body works, not only by tracking your period and ovulation, but gathering other data and information on your symptoms, like cramps, headaches, low mood etc.
They have an ever-growing encyclopedia on overall woman's body and health - from menstrual cycle, birth control, fertility, health issues and conditions, pregnancy, up to life and cultural issues, all written by specialists and scientists.
Available on iOS and Android.
Notion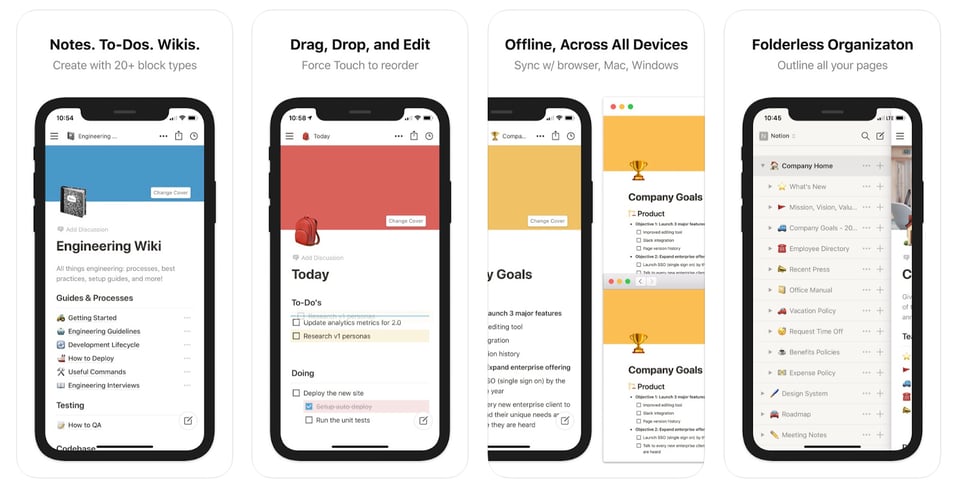 Image source: Notion
Notion is this kind of app everyone wanted to build, but their team actually did it. If you collaborate with other people on a daily basis, this should be your go-to app. Notion erases the hassle of too many tools, too much chaos, lost files, lost tasks, lost whatever really. They say they are more than a doc, and more than a table, and they really are. Notion offers everything you need: from tables, through calendars up to kanban boards along with thousands of free pre-built templates you can modify however you wish.
Available on Desktop (Windows & Mac), Mobile (iOS & Android), and in-browser mode.
The Polaroid Lab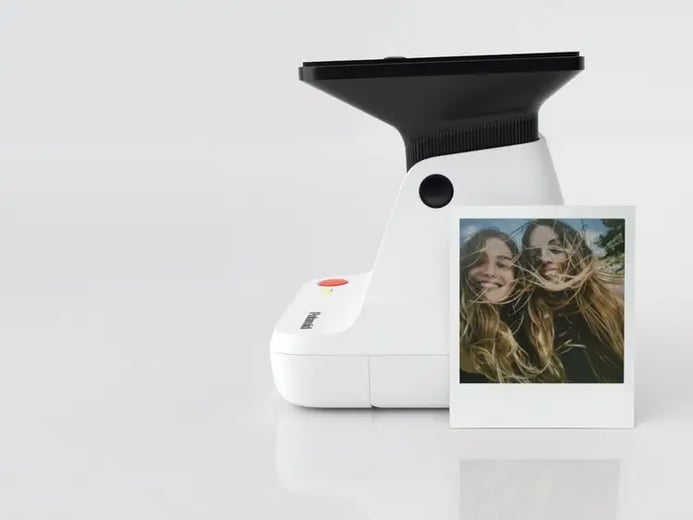 Image source: Polaroid
Ever wanted to print your smartphone photos and hang them on your fridge like in the good old days? Polaroid was feeling the same nostalgia, and hence, created the Polaroid Lab. Fair enough, you will need a bit more for this than just an app, but it's still a very interesting product to mention.
With the Polaroid Lab and their special iOS & Android companion apps you can expose your digital pictures directly from your phone onto Polaroid film. The result? An original Polaroid photograph with a beautiful analog aesthetic. Everything in the comfort of your own home.
The app allows you to turn your favorite moment into a collage of up to 9 frames, but also, thanks to AR, when you scan your printed Polaroid with the app, it allows you to see the scene animate for even more precious memories.
Available on iOS and Android.
TED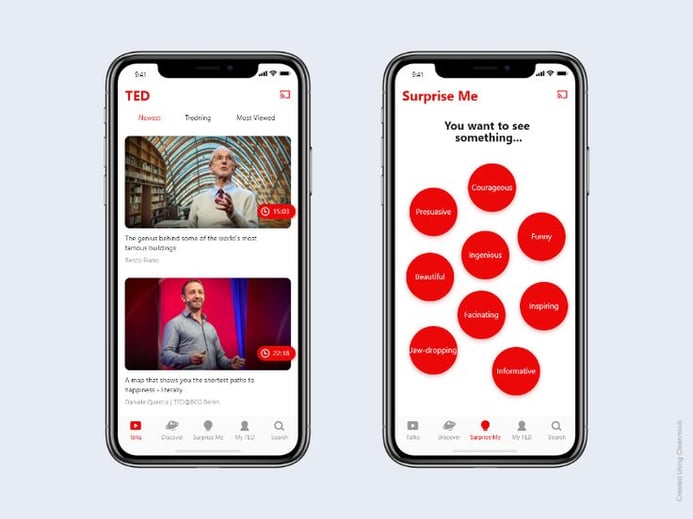 Image source: TED
Everyone knows about TED in 2023. But the community has grown so much, it can be quite intimidating to go find yourself around it. The TED app is there to help you find the content you will be the most interested in. Other than that, you get your standard round-up: newest and trending videos, curated content, and simply browsing by categories. If you're feeling cheeky, you can use their "Surprise me!" feature to step outside your comfort zone for a bit.
Available on iOS, Android, and in-browser.
My IBD Care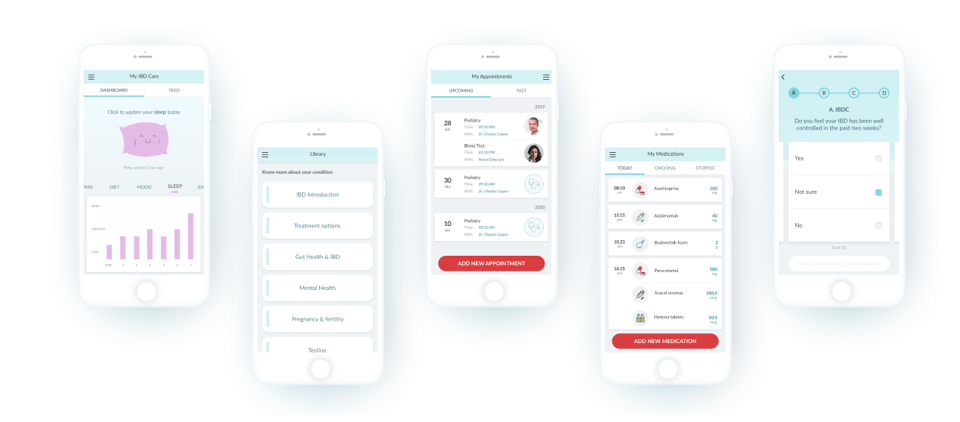 Image source: Mi IBD Care
My IBD Care is an app designed to provide personalized digital therapy for patients with IBD symptoms. The apps allow users to monitor their physical and mental well-being, track sleep and stress metrics, and manage day-to-day appointments and medication.
The app educates on lifestyle changes to reduce IBD symptoms for those suffering from Crohn's or Ulcerative Colitis. My IBD Care supports you through the journey starting from diagnosis, guiding you through relapse, and helping you stay in remission as long as possible. For patients located in the UK, the app integrates with your hospital system, notifying your doctors in case of symptom flare-ups.
Available on iOS and Android.
Raindrop.io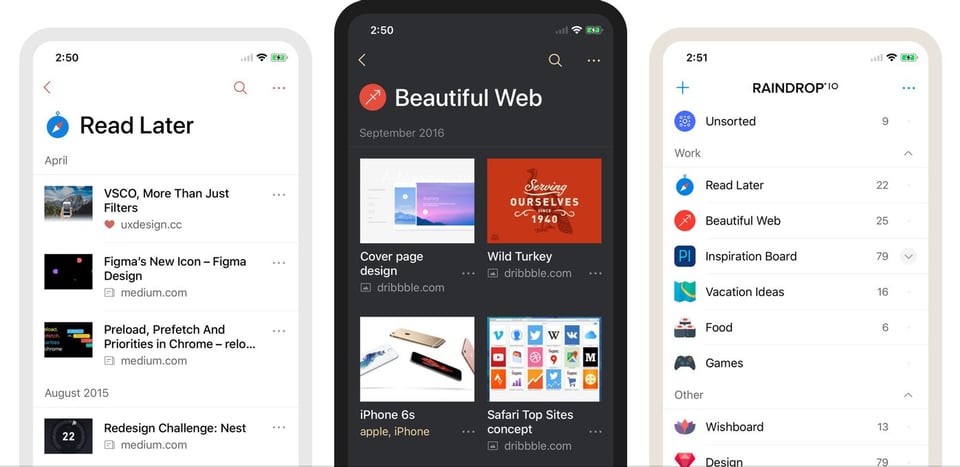 Image source: Raindrop.io
Raindrop.io is an all-in-one bookmark manager. No matter if you work online, search for new clothes, house etc, it's not news that your old bookmark bar is no longer the best place to store all the ideas, inspiration, and knowledge you stumble upon. Raindrop.io aims to fix that, and they manage to do it so gracefully and in all ecosystems (it's available for all most popular browsers out there, with accompanying mobile apps for Android & iOS, and Desktop apps for both Mac & Windows). They've just got you covered.
Raindrop.io is an intuitive, clean, and sleek tool to store all the things you need to have at your fingertips. You can group all your bookmarks in Collections for different contexts, and add tags and filters for quicker access. Raindrop.io can also take care of any duplicates and broken links.
There are also multiple views available to see the big picture of all your pinned content. You can choose Grid, Headlines, Masonry, or List view modes. You can also create spaces within your Raindrop that can then be shared with your friends of the team, so everyone can access the same information, be it for your next trip, or the work project. The best thing? It's free. You can pay for some of the Pro features, but light and medium users will be perfectly fine without it.
Available on Desktop (Windows & Mac), Mobile (iOS & Android), and as in-browser extension for Safari, Google Chrome, Firefox, Opera, and Edge.
Adobe Lightroom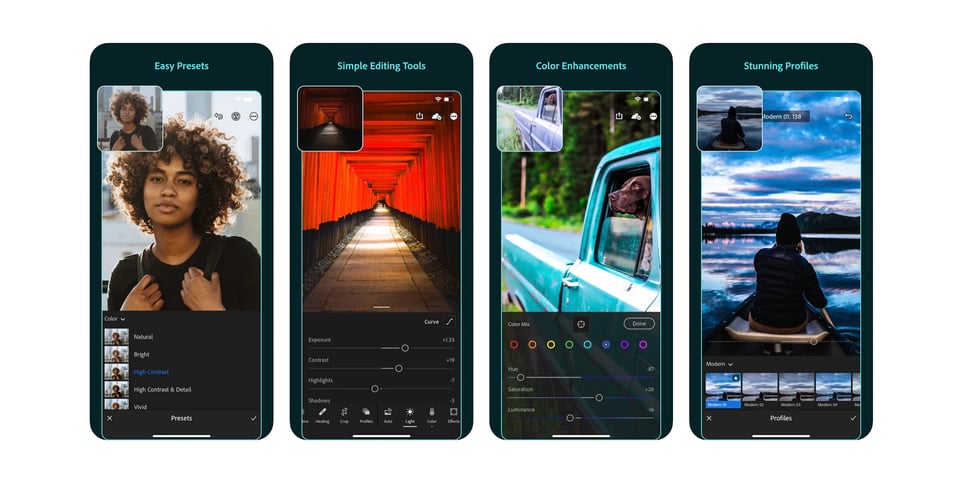 Image source: Adobe Lightroom
The market of mobile photography apps is huge. But when Adobe entered the game, they entered it for real. Lightroom for mobile empowers you to make use of everything your mobile camera has to offer, which is often not utilized by the standard OS camera app. With Lightroom, you can choose your exposure, timer, instant presets, and more. If your camera allows it, you can take even more control over your pictures with professional and HDR capture modes.
But Lightroom, just as everyone may suspect, is known for its photo editing super powers. The mobile version allows you to apply Lightroom presets on your photos, retouch them, and improve lightning and colors. It's one of the most advanced, and yet still intuitive photo editing apps on the market. The biggest wow? Most of Lightroom's features are completely free. You can purchase premium versions and plans that give you up to 1TB of cloud storage and access to some premium modes, but for 8 out of 10 casual photographers out there, a free version will be a satisfying experience.
Available on iOS (for iPhone & iPad) and on Android.
Timeshifter - the Jet Lag App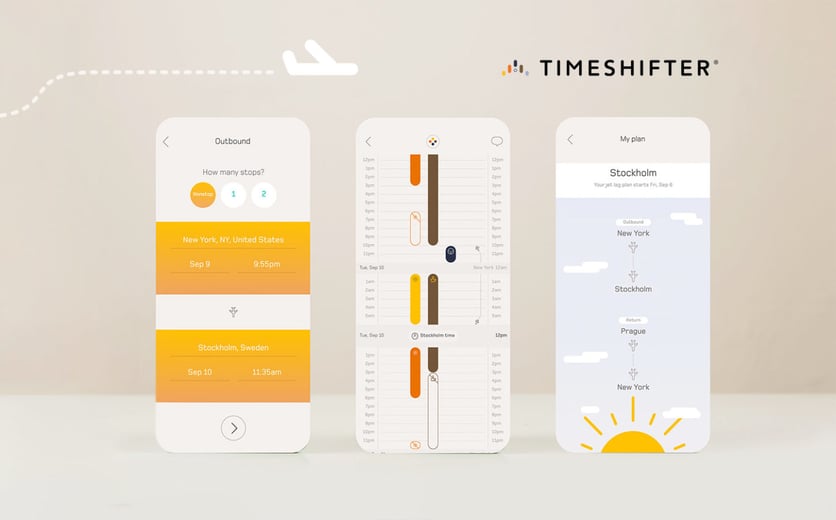 Image source: Timeshifter app
The Timeshifter app, used by astronauts, frequent business fliers, and top CEOs, is based on the circadian rhythm of your body, and aims to help with time zone adaptation, shift work disorder, and other situations where our natural biorhythms are somewhat disrupted.
The app assigns you simple tasks at specific times of day to expose you to sunlight, avoid caffeine, etc. The app's "Practicality Filter" adjusts all the advice to the real world and your time zone possibilities to make it all actually achievable in your day. It offers pre-travel adjustment, so you can start adjusting your circadian rhythm even before your departure.
Timeshifter can also prove beneficial for business travelers on shorter trips with its "Quick Turnaround" feature, enabling you to limit tiredness that some people experience from shorter flights.
Available on iOS and Android.
Stoic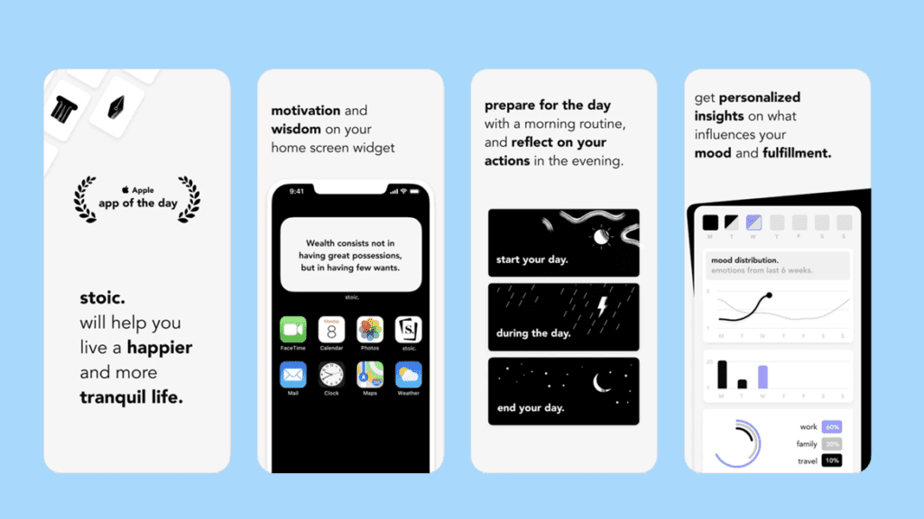 Image source: Stoic
Stoic app is only available for iPhone, but there's something about this app that needs recognition. In a nutshell, it provides bite-sized mental exercises for a wide range of situations. It offers morning and evening routines, to help you prepare for the day ahead or reflect on it afterwards. Apart from the routine, Stoic offers a handful of reflective exercises you can use in a moment of stress when feeling down or just in need of a break. Some of them are: journaling, negative visualization, meditation, breathing exercises, quotes, fear setting (introduced by Tim Ferriss, aiming at helping you be less afraid of taking action), and other exercises based on CBT (Cognitive Behavioral Therapy).
Over time, you get personalized insights on your mood and fulfillment, based on your journal entries, and you will be able to see yourself in a bigger picture.
Available on iOS.
Noom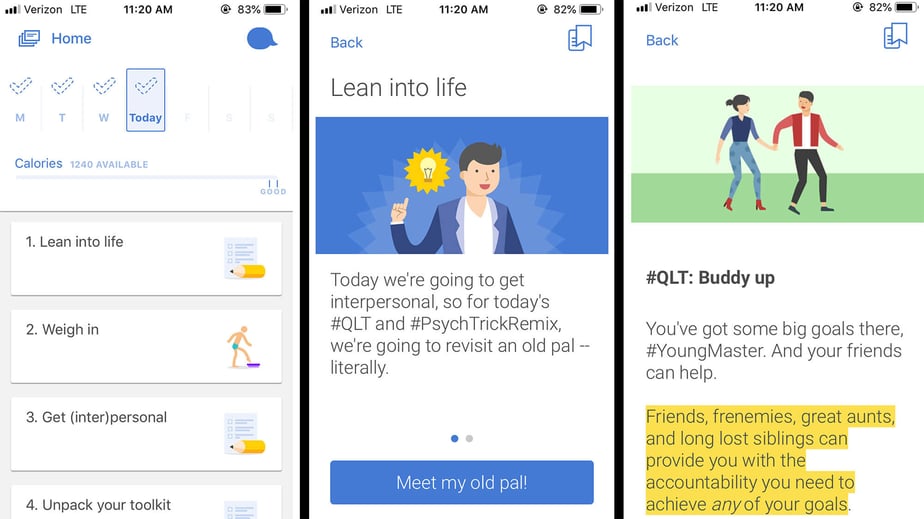 Image source: Noom
Noom, as opposed to many weight loss apps out there, focuses on something else rather than just your calorie intake. Cutting your calorie intake is fundamental to losing weight and that is a rather known fact, however, many people do struggle not so much with calories, as they do with building sustainable habits that last more than just a couple of months, while they're on a diet. Noom comes in handy to do just that - it helps you build healthy habits, better understand your relationship with food, and be more mindful of what you're doing and why you're doing it. Everything to give you the knowledge and support you need to build a long-lasting change in your life. Their psychological and science-based approach is further reinforced and supported by Noom articles from personal trainers, nutrition experts, and psychologists.
Some of Noom's features include: 1:1 coaching sessions, 10-minute daily lessons on healthier habits, health-tracking tools like weight logging, step counting, water tracking, and hundreds of recipes.
Available on iOS and Android.
Streaks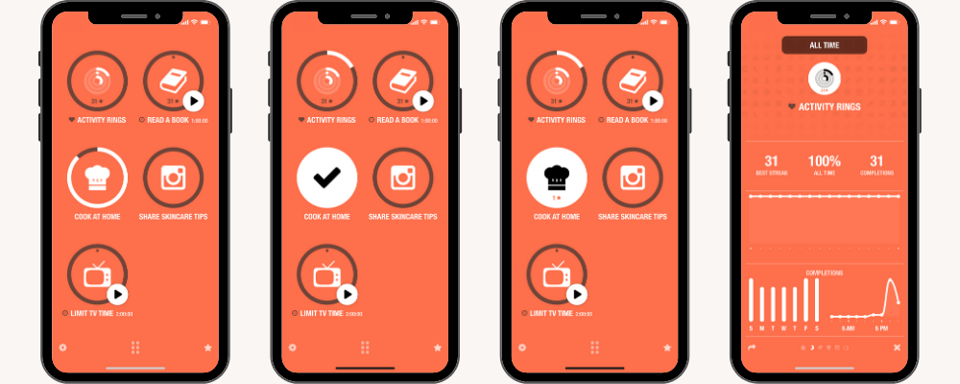 Image source: Streaks App
Streaks is your simple habit tracker and a companion app that helps you monitor your progress of new habits. It easily synchronizes with AppleHealth, so it is able to track certain goals directly from the iOS Health app (steps, blood pressure, heart rate, exercises). For other habits (drinking water, reading, calling your mom every week) all you need to do is to create a new habit, decide on the frequency, and then be careful not to break your streak. If you're in need of this one additional push to perform certain activities, this app has got you covered. It's simple and effective, based on the users' review, but if you're a person who gets easily demotivated, Aloe Bud (number 1 in this list) is probably a much better fit.
Available on iOS.
Five Lives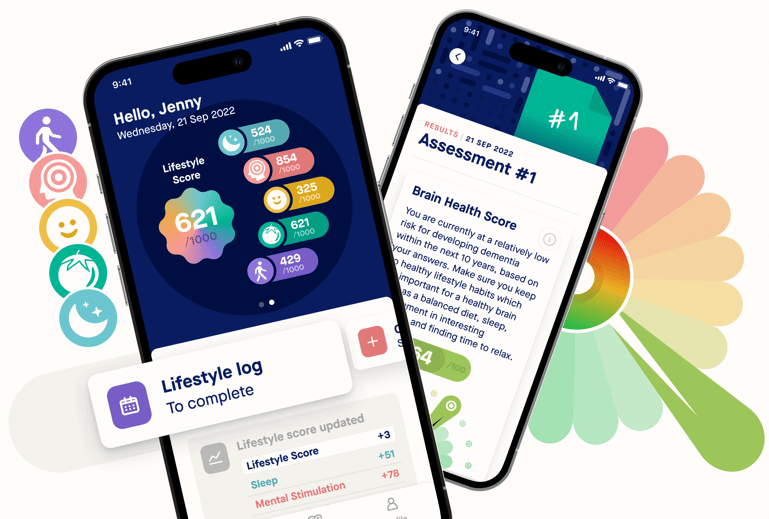 Image source: Five Lives
The Five Lives app is based on the latest scientific research, helping users prevent and detect dementia. It focuses on five essential lifestyle pillars: diet, sleep, physical activity, stress & mood, and mental stimulation.
The platform is intuitive and convenient, making it easy for users to take control of their brain health and reduce their risk of developing dementia. Five Lives' features include a medical device risk assessment, cognitive tests, a digital lifestyle coach, science-backed interventions, user-friendly instructions, timely content notifications, and a lifestyle log for monitoring long-term progress in brain health.
Available on iOS and Android.
Sleep Cycle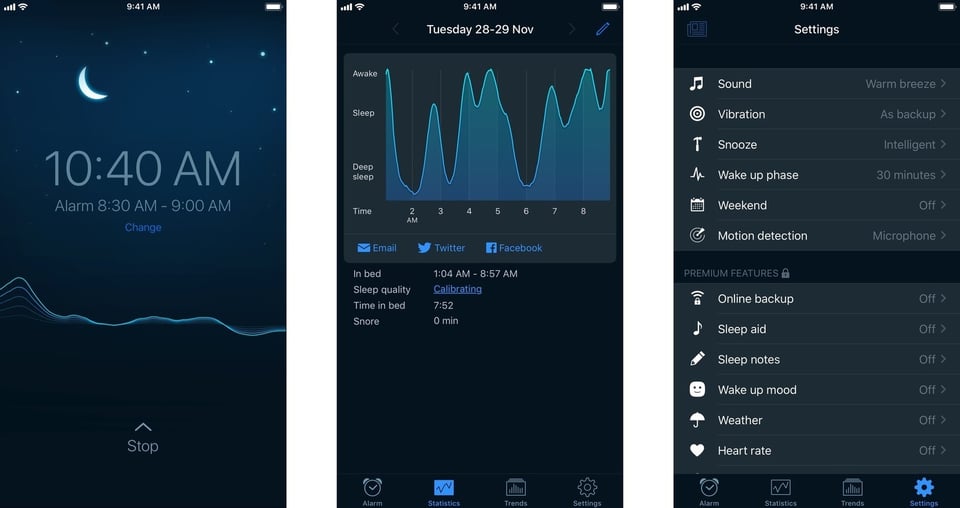 Image source: Sleep Cycle
Sleep Cycle is a renowned app on the market. It allows you to regain control of your sleeping patterns, and focuses on three primary elements: helping you to fall asleep easily, monitoring your sleep, and based on that, waking you up at the most convenient time, so you feel rested and recovered.
Sleep Cycle learns and analyzes your sleep patterns to understand them better, all based on sounds (movement and breathing) throughout the night. Over time, it is able to provide detailed information on what influences the quality of your sleep, give insights and trends that will be able to help you improve your sleeping routine. Whereas you might not need a tracker to tell you if you had a good night's sleep, a hint or two on what to do to improve your sleep is sometimes invaluable to improve your life quality.
Available on iOS and Android.
Hästens Restore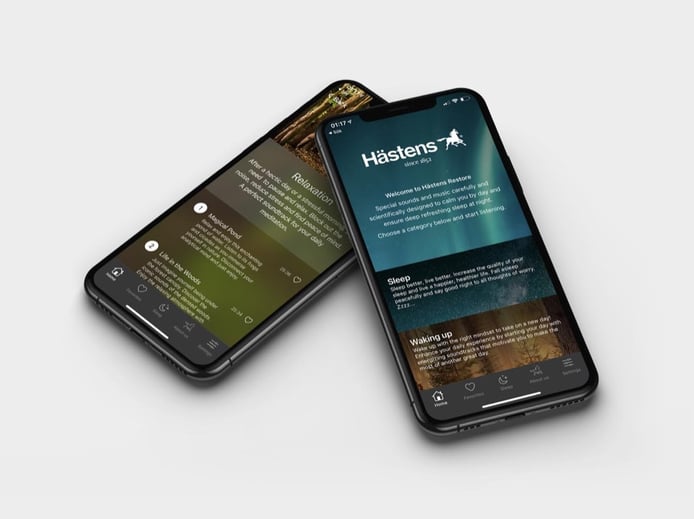 Image source: Hästens Restore
You might know Hästens from their beds, mattresses, and bedding, but you probably didn't know they came up with a relaxation companion app. And it's not just any app with ambient noises. They cooperated with a mathematician and a physician, Dr Eerikäinen, who researched frequency technology, and is an expert in energy medicine and neuroplasticity and created a curated collection of sounds to help you calm and relax.
Hästens Restore offers categories for every mindfulness goal - from waking up and tuning up, through gratitude, up to relaxation, and sleep.
Available on iOS.
Anyhau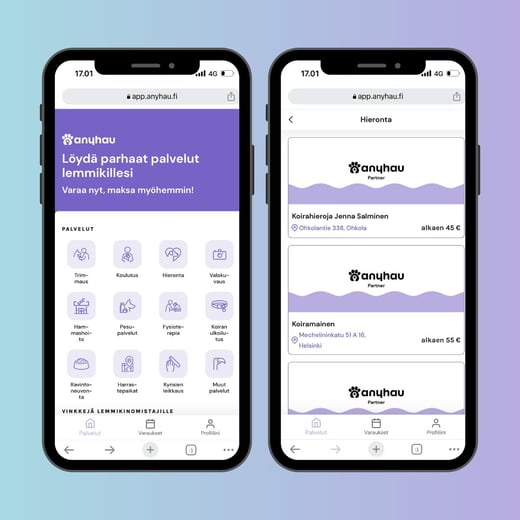 Image source: Anyhau
Anyhau is the first marketplace in Finland to connect pet owners and top service providers. Anyhau is a go-to app for comprehensive pet care, including vet visits, groomers, and breed-specific services. The founders, Clarissa Hedman, and Nur Ketene are currently developing the app's first version using insights gained from focus groups. The goal of the app is to enable pet owners to find reliable services, as well as service providers to find new customers.
Whee!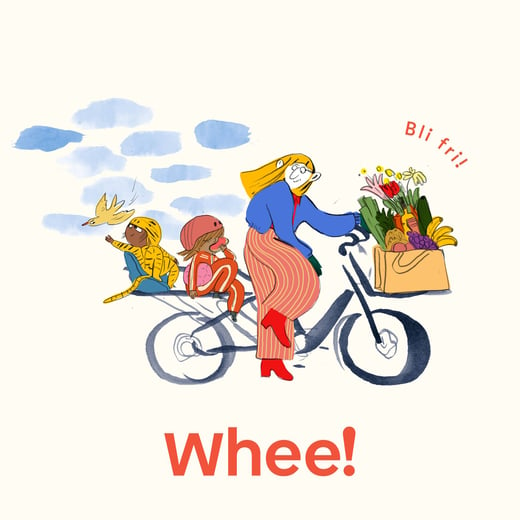 Image source: Whee!
Whee! promotes sustainable transportation by offering subscriptions to top-quality electric cargo bikes Additionally, the subscription includes everything you need to enjoy your new mean of transportation: a solid lock, winter and summer tires, insurance, washing, and service. Whee's premium cargo bikes can carry up to 200 kg of cargo, two kids, or an adult passenger, in contrast to what is allowed on normal bikes.
According to Whee!, electric cargo bikes can replace up to 90% of a household's car needs in everyday life, making it a more affordable and time-efficient option. The service is available in Oslo, Norway, and the monthly fee starts from 1,600 NOK ($150).
Summing up
We will be updating the list to keep it as fresh as possible. If you stumble upon an app that helped to ease out your lifestyle, don't hesitate to contact us at hello@elpassion.com.
Check out also