We need sustainable healthcare innovation. For now and for the future to come.
The old saying goes that "Necessity is a mother of invention", and if anything, the recent weeks have very much proved this to be true.
Digital transformation is not a new term for the majority of industries, including healthcare. But what was once "a nice to have" or merely "an improvement idea in a pilot stage", because of COVID-19, has quickly become a necessity. Deeply analogue healthcare systems and health-related services needed (and still need) to adapt. And adapt ASAP.
Pulling the switch to digital
In the ancient pre-COVID times (seems like ages now, doesn't it?) both, patients and doctors remained sceptical towards digital solutions and preferred a face-to-face contact.
Research shows that patients perceived it as more professional and just more comfortable for them. For doctors, using digital solutions "doubles" the work, because of non-synchronized internal systems, as they often have to do all the paperwork twice. We learned it first-hand while doing a Product Design Workshop for a Norwegian startup, Lifeness that connects dietitians with patients, providing 24/7 support in obesity treatment. "Double-paperwork" was one of the key pain points that proved to be beyond our control to address. How did our UX team handle the situation back then? We simplified the reporting for the doctors to lower their entry barrier for the app. But soon, those barriers may not exist at all.
With the conventional healthcare system routines being top-bottom violated, stakeholders begin to see the necessity to adopt technology for now, but also for the future to come.
We're very much seeing it right now: private entities working hard to enable teleconference-based doctor appointments, custom-built and doctor-supervised chatbots to address ongoing health issues so patients do not have to rely on plain Google Search (which we all know, is usually not a good idea). A multinational scaleup, Docplanner with 30 M unique patients monthly and more than 2 M active doctors, has recently launched their service of remote doctor appointments. The potential for healthcare app development is immense. And still growing.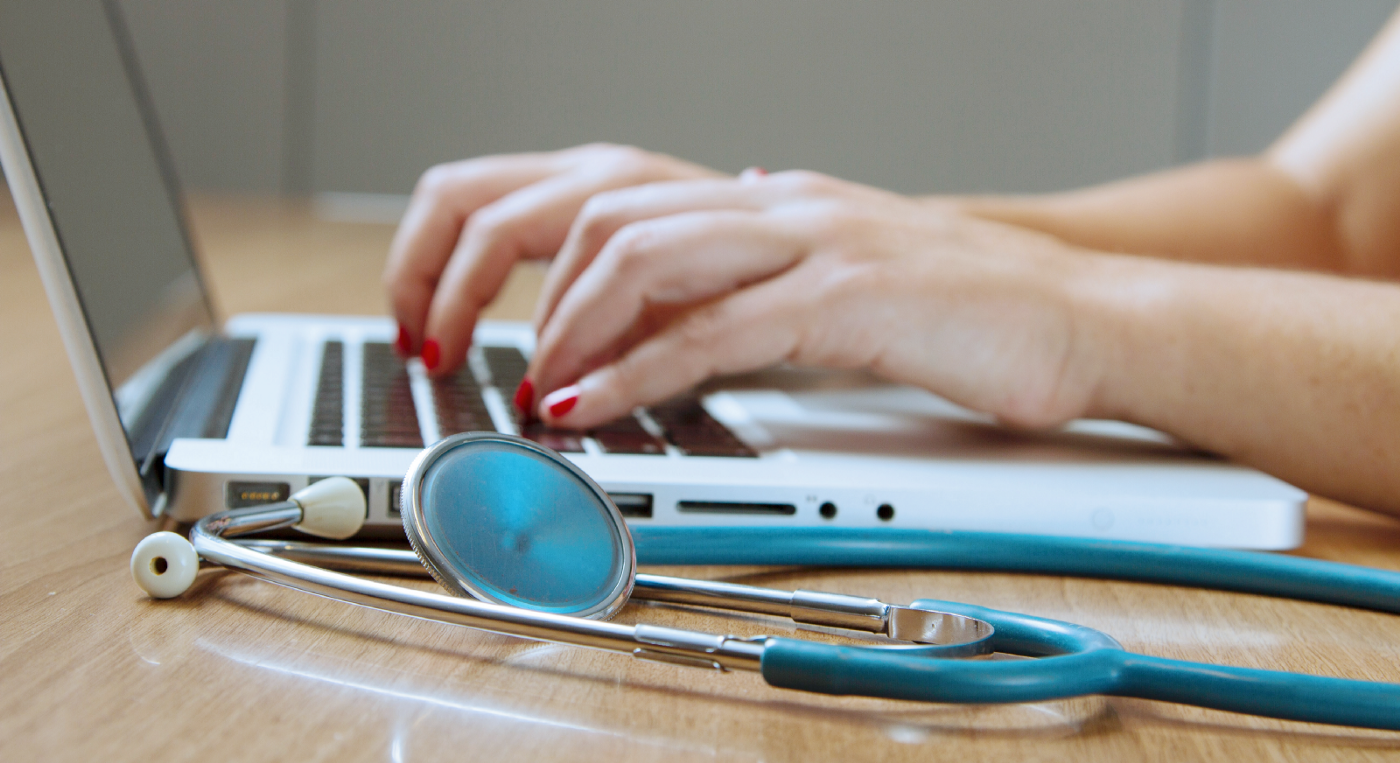 Doctors exchange information and train each other, sometimes even via Zoom, because of the lack of digital knowledge-transfer processes or maybe, the lack of specifically designated tools.
Digitalizing healthcare for the future to come
People's behavior is changing very rapidly, and in favor of digital health solutions. The COVID-19 disruption, by pushing patients and doctors out of their normal routines, makes all parties more tolerant to the new and simultaneously creates room for innovation.
This is probably the biggest push towards health digitalization we've experienced up to date. But this switch in is just the beginning.
As noted by Claire Novorol, the Co-Founder and Chief Medical Officer at Ada, a digital health companion,
If people are too hasty and roll out unstable and untested solutions, we risk a reduction of people's overall trust and trade it for nothing more than yet another digital product frustration.
COVID-19 boosted the need for long-term health digital projects, no longer only in R&D departments. Digitalization may and will become some organizations' core business, which means clear-cut return on investment goals and demand for wide user adoption. This translates into a necessity of quick bug fixing and top-notch user experience.
Just like any other product on the market, the digital health pioneers will have to convince people to use their invention in the post-crisis world.
This is where user experience and usability come on stage.
Accessibility first
Without meaningful design decisions, putting enough emphasis on accessibility for users' in different age groups, minding their computer literacy and other factors, products destined for adoption so widespread as healthcare services, will fail.
Way back in the early days of DocPlanner, now a recognized solution for online booking of doctor visits on 20 markets, we partnered up to develop their iOS and Android native apps. The goal was to increase their mobile booking share from 5 to 35%.

Final screens of the Polish version of Docplanner's ZnanyLekarz.
We made the booking process 2 steps faster and more accessible for the people not used to the digital environment. This reduced the entry barrier significantly, especially among the users in older age groups. And by putting the login screen at the end, not the beginning as in the previous versions (not a common solution at the time) we managed to notably boost final conversion rates.
Building trust
Product transparency is vital to gain users' trust and establish credibility on the market. This should be the main cornerstone for future-proof healthcare digital services.
We created mednavi, a tool enabling cancer patients to find suitable treatment without hospital havoc. But from the beginning we knew we had to build a tool that is not only intuitive and easy to use, but more importantly will serve as a safe and dependable source of information that people will be able to trust in the most vulnerable time in their lives.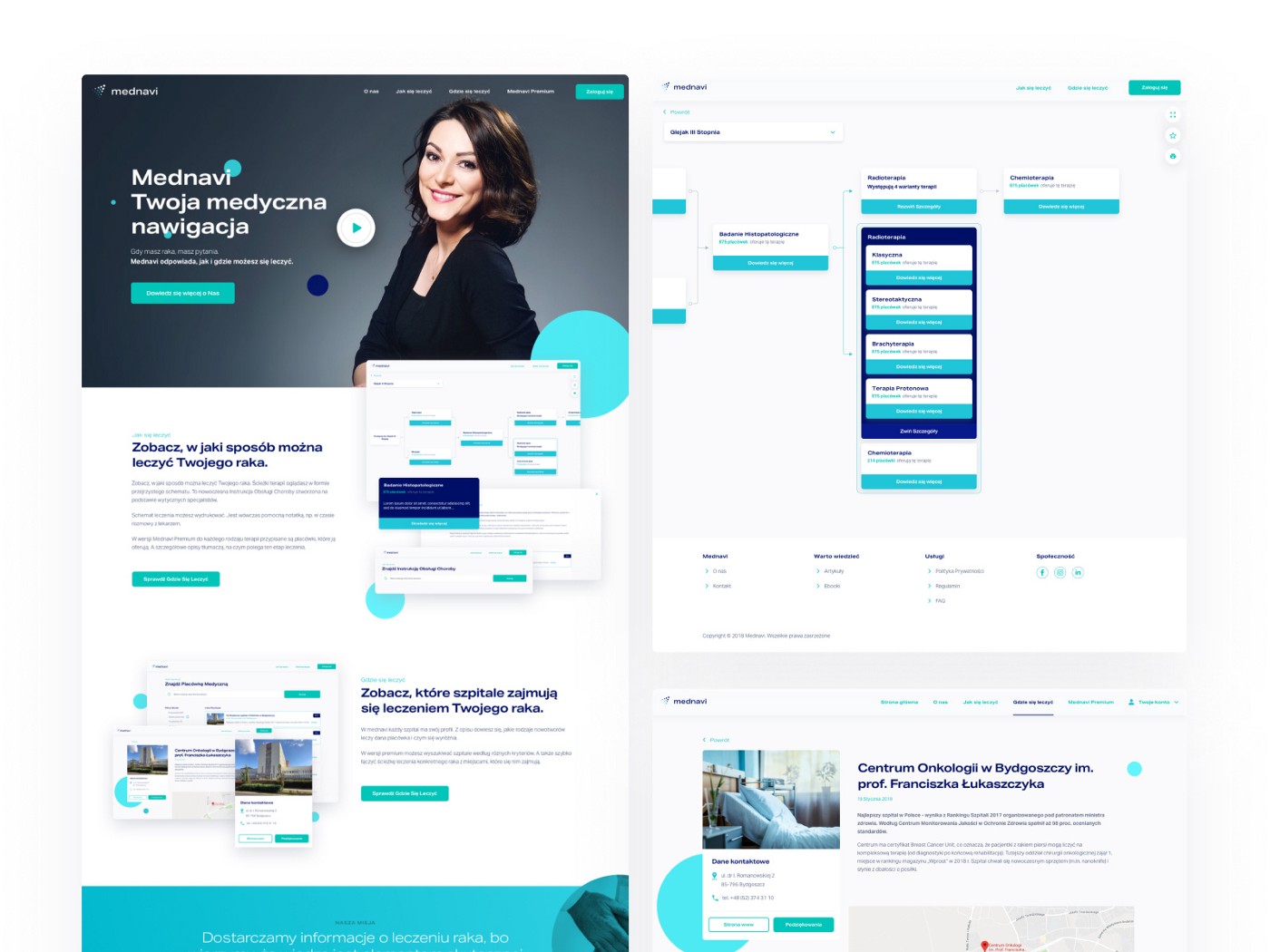 Final screens of the mednavi PWA app.
During a Product Design Workshop for mednavi we sketched out two separate personas of the app's prospective users: people with cancer diagnosis and their loved ones. This step and the empathy mapping process proved to be key in the process of eliciting the crucial product's features.
This is just an example of a challenge all digital healthcare providers will face: how to provide the right solutions aligned with the users' real needs and do so with grace, openness and most importantly, with empathy?
The revolution is already here. Healthcare app development is on everyone's lips and users are becoming familiar with these apps as we speak.
But the further navigation of this revolution lies in our hands. And we need to make it work.
Check out also: