EL Passion is a Top Recommended B2B Service Provider.
At EL Passion, we're dedicated to creating the most functional and user-friendly applications. With our skilled team of UI/UX designers, web and mobile developers, we're able to provide a smooth delivery process to make sure our client's projects succeed. We're also really great at communicating with transparency, so we can provide our clients with an outstanding experience, based on openness and trust. This is why Clutch's latest press release has named EL Passion a Top Recommended B2B Service Provider.
Why We're Unique
We're unique because we genuinely care about the success of our clients' businesses. Everything we do, we do with passion and integrity, everyday! We also love to share our knowledge. We work hard to be innovative, help others solve problems and provide education on the latest trends.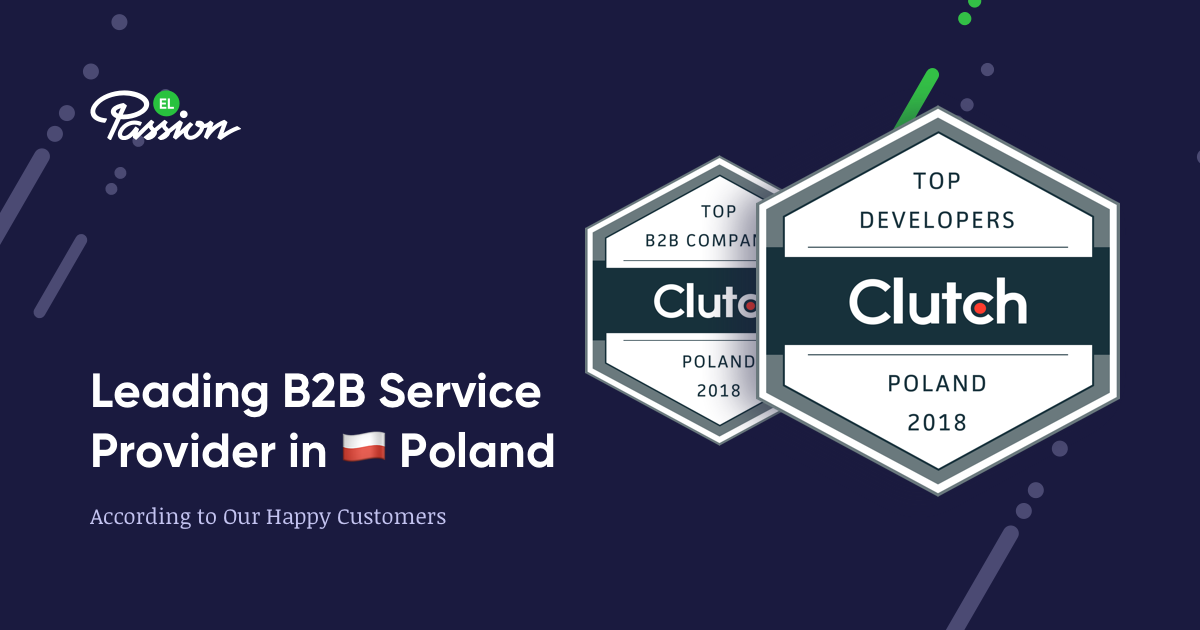 What's Clutch?
Clutch is a B2B ratings and reviews platform based in Washington, DC. They work to make it easier for firms to find the right partners. Clutch gathers relevant information on each company that has a profile on their website and makes it available to any business looking for someone to collaborate with. This way, firms can find more reliable, productive, and long-lasting relationships with other firms.
That's not all!
EL Passion is also on the board for Top Custom Software Developers in Poland, and we're on the list of Top App Developers in Poland! Here is a glimpse at our success stories that made this possible:
We were paired with a front-end developer who was fantastic, super flexible, and easy to work with.

Carol Meere, Founder of Indu Healthcare
They created exactly what we wanted under budget and ahead of schedule.

Gabor Wnuk, Developer at Media Company
I think what makes EL Passion stand out is their understanding of design and their speed. With both projects, they hit it right on the point.

Welby Obeng, Founder of Face2FaceAfrica
What We Do
We develop MVP's and products for businesses. The services we provide utilise cutting-edge technologies and creative solutions. Our developers and designers are experienced in UI/UX design, iOS, Android app and website development, optimising all projects to fit different screen types.