We sat down (virtually) with Bright Health's Cameron Carter to talk all things digital health. The telehealth potential, the gaps of today's healthcare, and the future.

About Bright Health
An innovative and highly digitalized insurance company from the US, striving to rebuild American healthcare and making it less about the system, and more about the people. Digital tools (including a self-service portal & a telehealth platform) help Bright Health make healthcare more affordable, inclusive, and a fully personalized experience. They have secured $500 million in Series E funding.
Through partnerships with leading health systems in local communities, they are reshaping people's and doctors' approach to healthcare in the US.

Cameron Carter is the Manager of Health Plan Product Development at Bright Health. He and his team ensure products are designed, developed, implemented, branded, and managed as part of a cohesive strategy in partnership with Bright Health Plan Line of Business and Finance teams. He's responsible for implementing strategy, product roadmap design, and feature definitions for differentiated products and services that improve the member experience.
Digital Health Adoption is Our Biggest Challenge Globally - An Interview with Bright Health's Cameron Carter
Patrycja Paterska: What were Bright Health's first actions after COVID-19 hit the US, team-wise and then in the services you offer?
Cameron Carter: We monitored the US and global situation with regard to COVID and the stress it put on the local healthcare system. As a business, we were not impacted significantly, as we have experience with distributed workforces. But our priorities have changed: we went from simply running the business to protecting our employees. Most of the offices have been closed, and we've gone virtual.
Beyond the workplace experience, a top focus for our then 165,000 members was prioritizing telemedicine not just as a valued feature but as a functional care delivery solution. It needed to be something we offer as a core part of our business and on a national scale.
We made transitions to ensure that virtual care was accessible to all and affordable to as many as possible. We wanted to make sure that people are aware of it nationally, so we really pivoted our marketing and engagement strategies.
How Bright Health plans changed due to COVID-19?
Apart from waiving the cost for COVID-19 tests and free screenings on our virtual care platform, we also offered unlimited transportation trips to and from in-network providers. Almost all public transportation had shut down in certain communities. It became difficult to get dialysis, oncology treatment, chemotherapy, and some of the major healthcare services that you just can't go without, waiting one or two weeks. We allowed early prescription refills for people, so they did not have to go to the drugstore themselves. We have a call center to help people navigate their plans and benefits or simply ask questions. Everything to enable people to have the best care navigation possible.
You mentioned Bright Health prioritized telehealth. You have your own telemedicine platform, and you extended plans for all people to use it as of now. I guess the rise of users this high produces a lot of data and insights about telehealth and its potential.
In one sentence: there are a lot of specialists who are not on telemedicine. This is a significant missed opportunity for care delivery.
Our telehealth platform has acute care physicians, general PCPs (primary care physicians). We even included behavioral health care on the platform, so members can see either psychiatrists or psychologists. However, it would be meaningful if we had Nephrologists, Dermatologists, caregiver support, and other clinical support for members and their families.
For those high-need members, there's the biggest gap. We need specialists on telemedicine platforms to enhance continuity of care and better care coordination. Telemedicine is a real perk to support people when they have asthma, a cold, or need a medication refill. But those visits are sporadic at best. If I'm someone who really needs convenient high-quality care, there is a gap.
With COVID-19, I personally saw a gap in physical therapy, speech pathology, occupational therapy. With a lot of those services, members would call in and ask, "I want this [service] too, it's easier to see a physician this way, but those physicians are not on the platform. Why?" That's the piece COVID-19 put in the spotlight. It's a huge opportunity.
At this moment, I would say telemedicine's adoption is limited only by the services delivered through the platform.
This puts a lot of light on the digitalization of healthcare and digital health in a wider lens as well.
A lot of qualified doctors were not deeply trained to utilize digital solutions to deliver care to members prior to the pandemic. There are many articles that outline the education gap of delivering care virtually. Many physicians learned on the fly, which is fine but not necessarily scalable. That said, digital health is here. Leaning into the topic is needed from a majority of US providers. Digital health will not only democratize access to care, it will begin to remove systemic barriers to care, which will increase equity across the US and global population. At the end of the day, the digitization of healthcare is both good for the patient and good for the business of healthcare.
So the adoption of digital health, on both ends, is our biggest challenge now?
Yeah, the real technological challenge is adoption and access. We're already in the fourth industrial revolution. The tech is there. We just need more people to adopt it, leverage it, utilize it.
The reason why it's so important for physicians to adopt it first is because patients listen to physicians. If an insurance company tells you to do "5 things to determine if you have diabetes", members historically are not that interested. But if their doctor says it, it is a much different story. If I say, use this technology to take better care of your health, you're not likely to do it, but if your doctor encourages it, that's a completely different story. This is the real gap in America. New solutions and tools are not being adopted on a wide scale by physicians, and patients who need them are not accessing them. As the author Willian Gibson puts it, "The future is already here – it's just not evenly distributed."
Every revolution causes disruption. What do you think will happen next?
What COVID-19 showed is that digital technologies improve access to care immediately. Digital healthcare truly allows someone at the bottom of the socioeconomic ladder to have access to the best doctor and pay the same amount of money as someone who is wealthy. This is huge. I don't think people truly understand how important that is. The US has a history of excluding marginalized groups from high quality of care; technology will dismantle that history.
The one key piece from Bright Health's perspective is that we've learned how much further we have to go as a company and as an industry. I believe it is more motivating for people than it is discouraging. The last key piece from a macro perspective is that we are going to start seeing a lot more cross-functional lessons and understanding built into industries post-pandemic.
The case studies, medical literature, selfless acts, etc., are going to shape a future I'm eager to contribute to.
Want more insights on digital health? Get our report Digital Health 2021: COVID-19 Influence on Healthtech.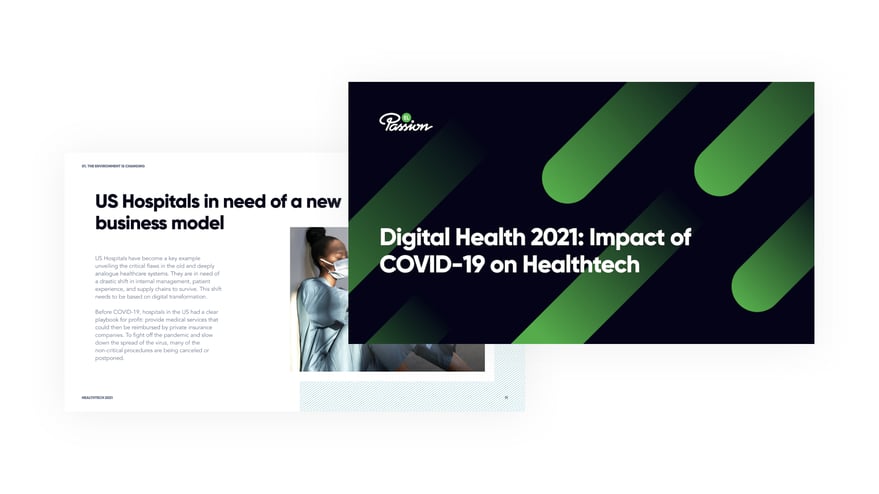 Click here to download the report