We redesigned and unified the newonce experience to help the team on their mission to reinvent content consumption across all media channels.

What we achieved?
a complete UX/UI redesign the whole newonce experience
a connected ecosystem of two media outlets (backoffice, user database)
API integrations (radio stream provider, podcast hub)
automated process of content migration (over 8000 articles from previous sites)
data scraping (over 16 million music records)
newonce Stats
160k downloads in the first month
500k unique users a month
200k unique listeners to the radio on air (time exceeding 20 minutes)
About newonce
Under one roof, newonce unites responsible journalism, podcast hub, radio, printed magazine and a bar. They are present on the market since 2015.
Reaching millions on social media and having their content consumed by over 1 million of users monthly, they have already become one of the most modern media groups in Poland.
Design carrying stories
As a brand, newonce presents a modern but also a responsible approach to content and journalism. In their publishing, they are commenting on the challenges of today's reality. Their voice is sharp and always to-the-point.
Their platform is rooted in streetwear and hip-hop culture. This is a unique target group in the digital landscape.
The redesigned newonce experience had to be unique & distinct for the users to easily identify with it and engage in the community.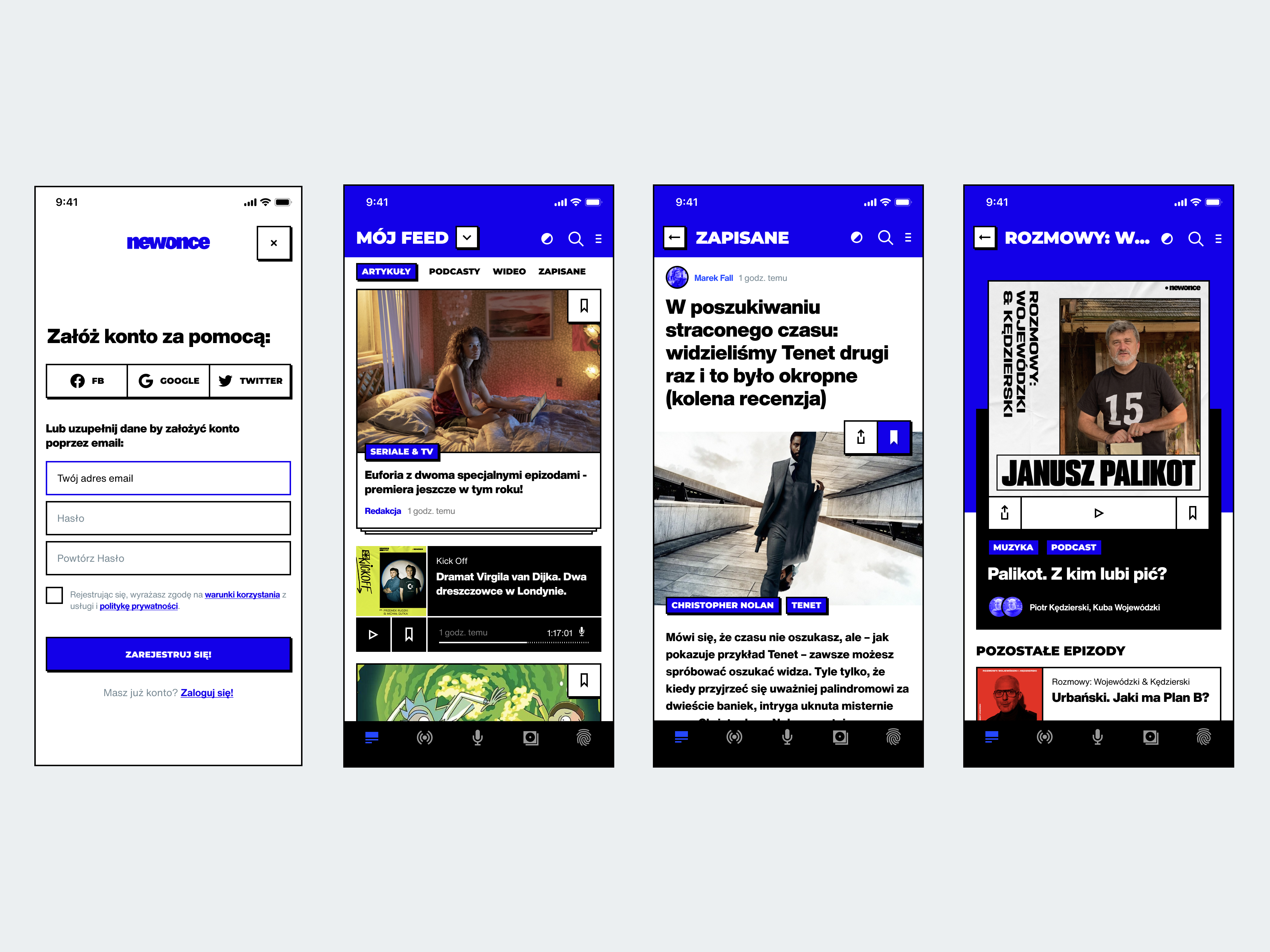 newonce.net redesigned mobile app shots.
The aesthetic is deprived of any decorative components, and heavily inspired by brutalism, Bauhaus and Piet Mondrian.
Every element in the design is conscious and was created with a specific function in mind. Fonts pay an immense role in consuming content, and we turned to Swiss Style to focus on cleanliness and readability.
A new app to unite a universe into one personalized experience
With completely new web & mobile apps, the company has introduced an 'all the way' user-oriented content platform, transforming the whole experience into a seamless and engaging interaction for all types of content, no matter how one wants to consume it.
Be it reading extensive articles, listening to on air radio station, exploring over 70 original podcast series on-demand, commenting and rating music albums, or just watching video productions produced in-house.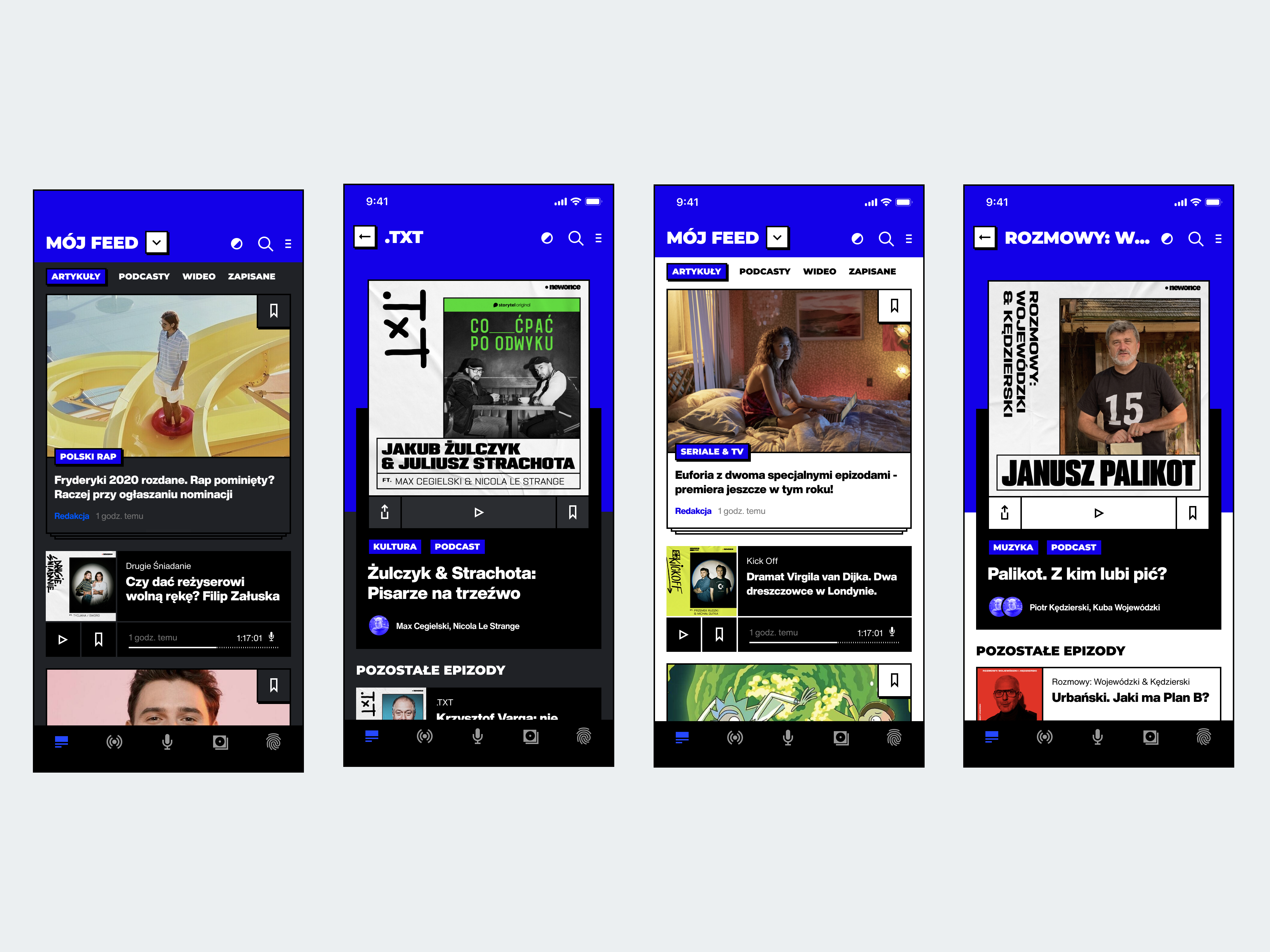 newonce.net dark & light mode.
Users are encouraged to sign up for a more personalized experience and feed based on their interests, favorite podcast authors, musicians and their past activity.
By signing up, they gain a possibility to use dark mode, allowing for consuming content in every context and every environment.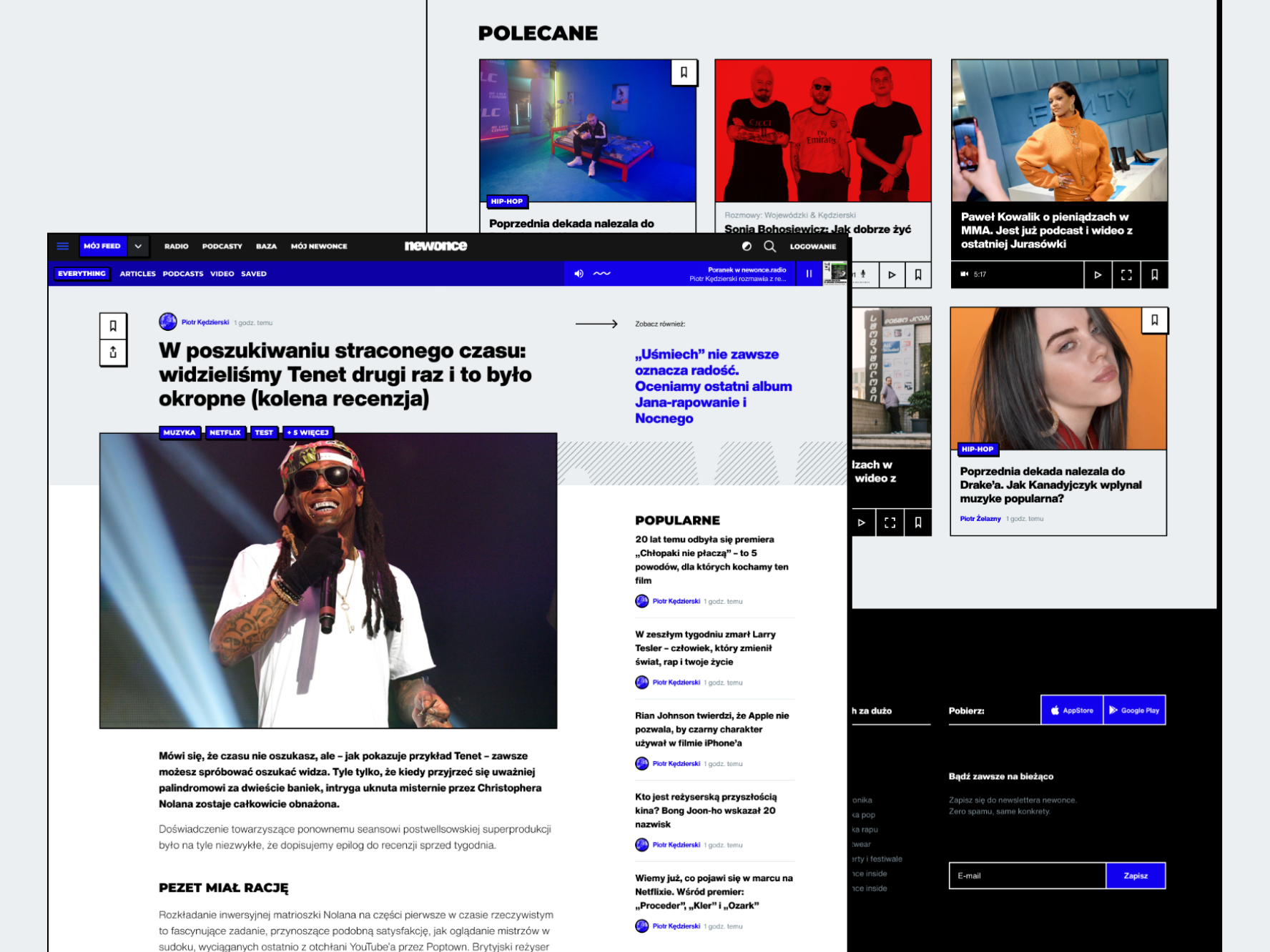 newonce.net web view.
Users have access to:
Live radio station
Podcasts library
Articles
Videos
Music database integrated with all types of newonce content with possibility to comment on artists and rate their albums
Feed personalization
Saving content for later
Following podcasts
Following editors
Dark / light mode
Check out also